Events for February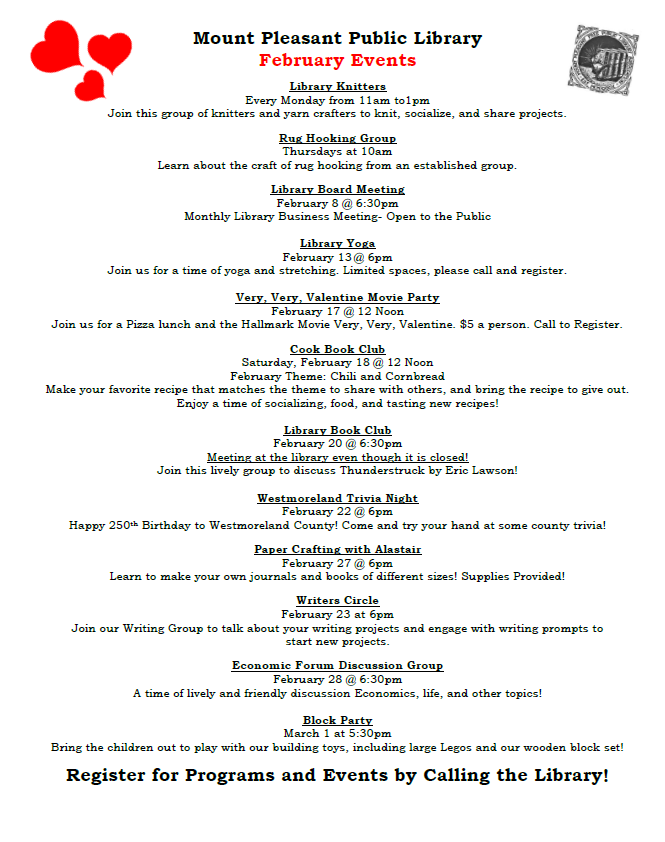 Library Seeking Children's Services Coordinator
The Mount Pleasant Free Public Library is seeking a new team member. We invite you to apply for and share this opportunity at our library. This position will be a part time position at 15 hours a week and pays $12 an hour.
For those applying please complete and submit the MPL Employee Application, a letter of interest, and a resume via email to mountpleasant@wlnonline.org with the subject line: Children's Services Coordinator Application.
Please make sure to submit all documents and that they are in a .doc, .docx or PDF format.  Applications will be accepted until filled.  Applications received before January 26, 2023 will be given precedent.
Any questions about this position can be directed to the Library Director at 724-547-3850.
Children Services Coordinator Job Description
Support the Library and become a Library Association Member!
Library Association Members support the library with annual dues and are eligible to serve on committees and the Library Board of Directors.  The Library Association members are vital to the mission of the library to promote literacy, advance life-long learning, and serve as a gathering place for the development of an active and informed community.
What is included with a Library Association Membership?
Association membership card
One free book from the library book sale on each visit to the library
Advance notice on some programs and events.
Votes on who shall be seated on the Library Board of Directors at the Annual Membership meeting
Association Members are able to run for a seat on the Library Board of Directors
Periodic updates on the library via email.
Invitation to a Library Book sale Presale
Free Document Scanning into digital formats
If you have not received a Library Association membership Letter in the Mail and would like to become a member please print this Association Member Form and return it to the library via Mail or dropping it off at the library.